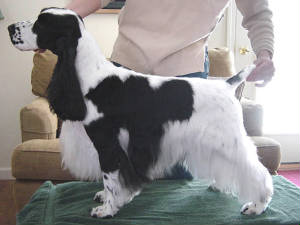 Ch.Whitfield Windover's Nova
Nova started his show career w/ a 4 pt. major & Group 4 from the 6-9 class.
After he grew up a bit, he finished w/ back to back 4 pt. majors and a Group 3.
He won his sweeps class as well as a 2nd in Bred By at the 2001 National.
He then won an AOM at American Spaniel Club in 2002.
A sound dog in both mind & body. He has the ideal EC temperament.
He has 4 Champion kids and 2 more that are pointed.
Pedigree for Nova
English Cocker
01-25-00
Bred & Owned By: Karen Whitfield & Marsha Mueller
Co Owner: Patty Jenner
Optigen'B', OFA 'Good', BAER'Normal', FN 'Clear'
Sire
Ch.Coventry Whitfield Vindicator
Sire
Ch.Whitfield's Crescent Moon ECM,WD,CGC
Sire
Ch.Craigleith Man Of Magic
Sire
Craigleith Easter Parade
Dam
Craigleith Candy Kisses
Dam
Ch.Gandy Dancer's Can Dew II ECM
Sire
Ch.Cedarhurst Jonathan Seagull ECM
Dam
Ch.Sheri D Katie Will ECM
Dam
Ch.Headwind's Kittyhawk ECM
Sire
Ch.Ashgrove Headwinds Nighthawk
Sire
Ch.Ashgrove TKO
Dam
Ashgrove Jazzabelle
Dam
Capercaille Penny Arcade
Sire

Dam

Dam
Ch.Windover Whitfield's Luna
Sire
Ch.Whitfield's Crescent Moon ECM,WD,CGC
Sire
Ch.Craigleith Man Of Magic
Sire
Craigleith Easter Parade
Dam
Craigleith Candy Kisses
Dam
Ch.Gandy Dancer's Can Dew II ECM
Sire
Ch.Cedarhurst Jonathan Seagull ECM
Dam
Ch.Sheri D Katie Will ECM
Dam
Whitfield's I'm The One
Sire
Ch.BluVu Whitfield's Knockout
Sire
The Firefly of Craigleith
Dam
Ch.Whitfield's Chantilly Lace
Dam
Ch.Whitfield's Blue Dawn
Sire
Ch.Carachelle Classic
Dam
Ch.Gandy Dancer's Can Dew II ECM